College Tours!
Each semester, the Fullerton College Transfer Center offers tours to local colleges and universities to assist our students in their exploration of their transfer options. 
All tour participants must be a currently enrolled Fullerton College student.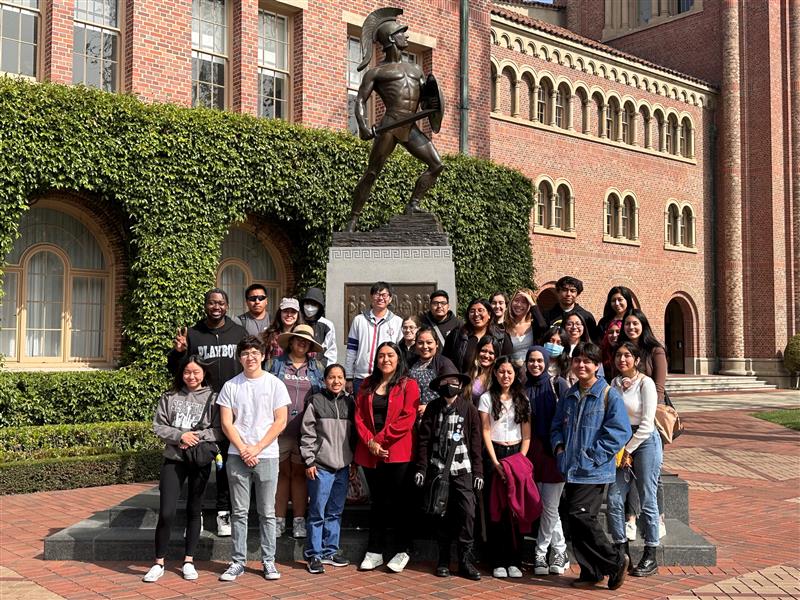 To RSVP for any of our tours, please review the "Tour Policy" and visit the Transfer Center to complete required forms.
Spring 2024 Tours will be announced in January 2024.
Fall 2024 tours will be announced in August 2024.
To Participate in a Local Tour:
Due to District policy, tour participants must be:
Admitted and enrolled Fullerton College students or
District faculty, staff, or management.
Students requiring ADA accommodations:
All Fullerton College students are welcomed to attend a tour!
We ask that you provide us with reasonable and adequate time to arrange accommodations –
at least 2 weeks notice so that we can make arrangements:

to order an ADA accommodating bus
notification to the university campus tours office so that they can assist in providing the accommodations.
All students will be required to complete the following District forms:
Student Participant Agreement
Release of Liability

If you have a medical card, please bring it with you.
If you do not, an emergency number will suffice.
Tour Tips!
Tours typically last 1-1 1/2 hours and depending on the campus, may involve stairs or hills, so bring good (ergonomically correct) walking shoes.
Pay attention to the weather and plan accordingly – we do NOT cancel tours for rain.
Bring money for lunch. Tour guides will typically allow for time for lunch at the university.
For more information, please contact our office.
Schedule Your Own College Tour!
Since we are unable to conduct a campus tour to every campus, we offer the following links to many of our popular universities' campus tour webpages so that you can schedule your own visit!